Product Description
Paper Rewinding Machine For Paper Making Machine
This is paper rewinding machine for paper making machine, the difference between the split-type high speed underfeed rewinder and unitary underfeed rewinder is: the slitting and reeling section of unitary underfeed rewinder are all in one frame, whereas, the split-type is independent completely.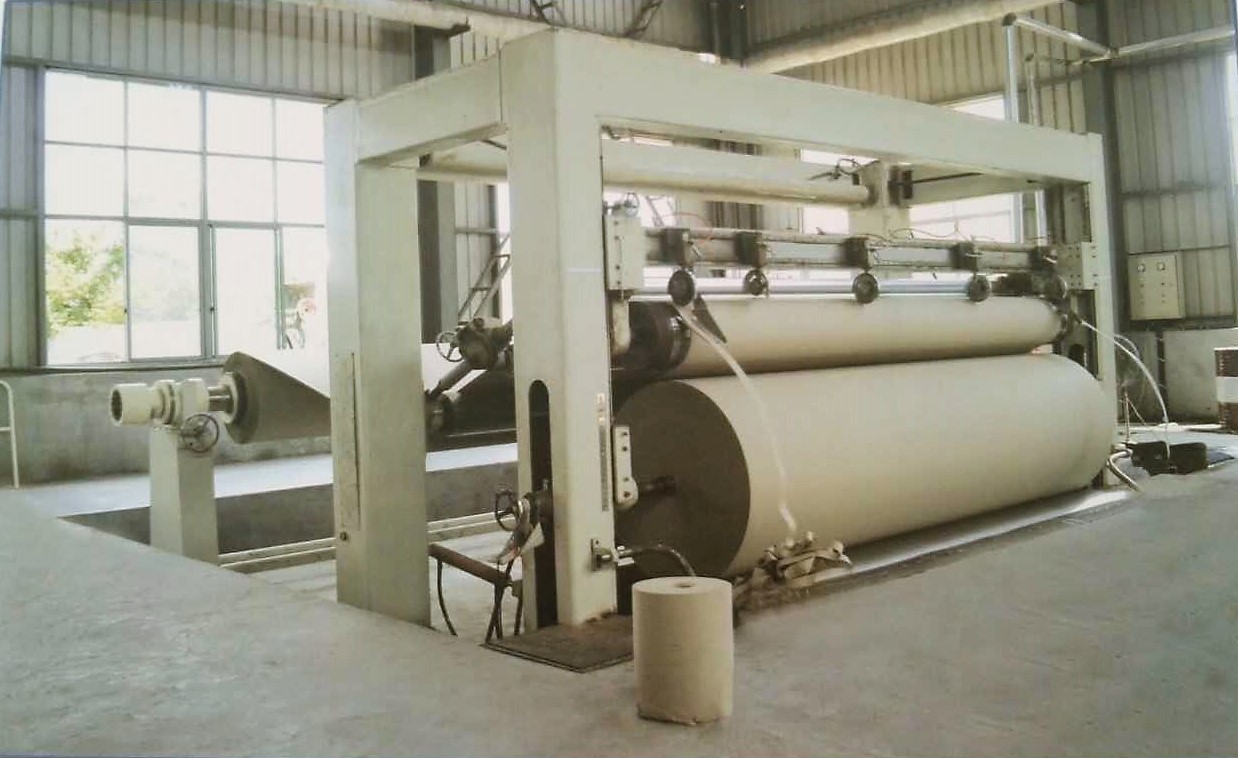 So the split-type underfeed rewinder has three sections: unwind section--splitting section-- reeling section.
Because of this independent structure, the splitting accuracy influences can be reduced effectively during the reeling process. Especially when the physical index is not good and the vibration are unavoidable.
Besides, there has a large space to put in the auxiliary equipments: automatic break and spray sizing device, set-up web spreader device (double spreader roll oscillator), automatic leading and web static tension holding device.
Split-type high speed underfeed rewinder is fit for different width and working speed requirements. The configuration can be selected flexibly according to different paper grade and working speed.
In order to give full play to overall performance, this rewinder uses the higher configuration. Besides referring to the configuration of unitary underfeeds rewinder, the user also can choose the following devices:
Unwind section:

unwinding roll is controlled by hydraulics, and there have an unwinding roll pendulous device to adapt to the different cross tightness degree.

Slitter section:

pneumatic leading system, multi-group slitter units, combined spreader device.

Reel section:

front support roll is processed by tungsten carbide spraying, automatic break and spray sizing device, web tension holding device, rider roll hydraulic direct actuating device.

Control section:

the finished reel constant diameter and constant length shut down function, web direct tension controller with tension sensor, rider roll with pressure sensor and supporting roll pressure nip pressure controlling automatically.
Some devices of the split-type underfeed rewinder can also be used on the unitary underfeed rewinder. It has a great change of price for using different devices.
Now we introduce the technical proposal and structural drawing of high-speed underfeed rewinder which we made for Baishan Qixiang Paper Company in Jinlin province, China. That company high quality and high-strength corrugated paper is the famous brand in China industry; we have 2.5 hours drive to their company.
Rewinder Width:4500mm
Basis weight: 80-180g/sq.m.
Working Speed: 1500m/min
Bearing section of raw paper (unwinding stand) can bear under reel with the max diameter of Φ2800mm. Besides, it also can adjust under reel angle and position on unwind stand towards cross and longitudinal directions.
Splitting section: double bowed roll with the diameter of Φ240mm, (before and after splitting), six splitters. Active knife is controlled by butterfly motor, passive knife is controlled by pneumatics. Edgings are processed by breaker of 30 KW.
Reel section: support roll with the diameter of Φ750mm. The rear support roll is grooved, and the surface is chrome galvanized. The front support roll is smooth roll, the surface is molybdenum spraying. The rider roll is controlled by hydraulic direct actuating device; this structure can reduce the rider roll`s beating made by web waving, and ensure the finished reel forms preferably.
Control section: AC drives system, which was constituted by ABB VVVF and Simens PLC.
Photoelectric encoder is speed feedback device, which make up the speed and current closed-loop control; the torque difference of front and rear rolls program control; web tension current closed-loop control; automatically control by calculating the finished reel diameter and hydraulic proportioning pressure reducing valve; bottom slitter speed follow-up control; breaker speed follow-up control; over voltage, over current and superheating protecting control of each motor; auto stop control when it breaks and set diameter, set length auto stop control, etc.
The touch screen Simens MP270-10 on the operating floor can be set and display operating parameter, which let observe more visually, operate more easily.
If you are interested in our products, welcome to contact us for more information.
We`ll be happy to give you the competitive quotation upon receipt of your detailed requirements.