Product Description
Kraft Paper Coating Paper Making Machine

This Kraft coating paper white coated board paper making machine, according to relationship with paper machine, this series of coating machine is divided into on-line type and off-line type. For different applications of coating paper, the coating mode is divided into single-sided coating and double-sided coating, each said can be coated one or more times.
3600mm-350m/min Coated White Boxboard Paper Machine Picture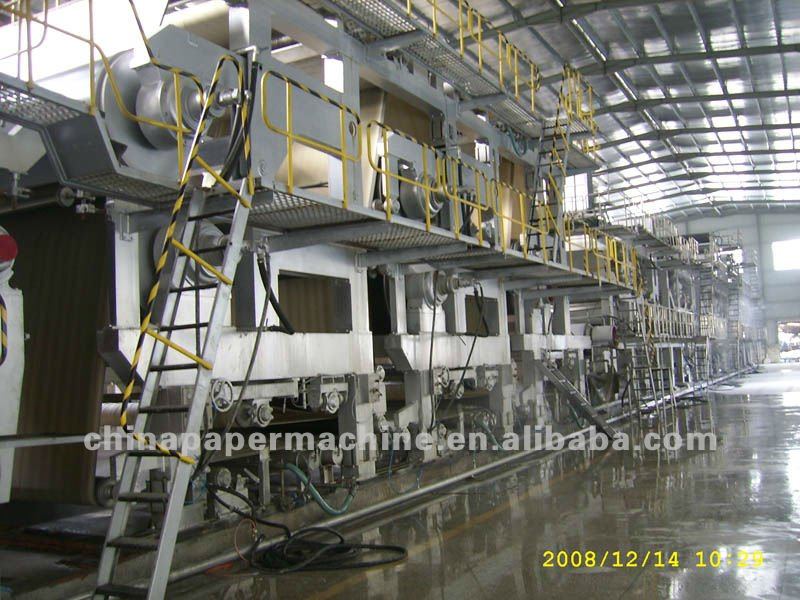 Wire: five wires.
Stocks: four.
The basic components of configuration are: five wires--suction couch roll--pickup device--vacuum prepress--large-diameter press-- half-dry glazing press-- dryer cylinder group--sizing machine--dryer cylinder group -- calender --coater --form adjustment dryer cylinder group -- glazing calander--cooling cylinder-- reeling machine.
Wire section usually concludes: one bottom wire; two middle wires; one back wire and one surface wire. The length of bottom wire is 40~60m, the others are 7~20m.
Headbox: air-cushion type; the vacuum suction box with stainless steel ceramic girder.
Press Dewater form: one vacuum pre-press; two large-diameter rolls press; one half-dry glazing press, which is to prevent the wet paper sheet breaking and improve the dewatering effect. The half-dry glazing press is used to improve the paper surface plainness. Large press roll: cast iron rubber rolls with blind hole.
The dryer section has several dryer cylinder groups with the diameter of Φ1500mm or Φ1800mm. drive: each group closed gear box single drive or single gear box multi-points drive.
The current coated white board PM is always equipped with surface sizing machine, to improve board rigidity, folding strength, bursting strength and water resistance.
Coating: single coating and twin coating. Take single coating for example; it usually uses two or three blade coaters. After passing through coating roll, the surplus coating was scraped by the gap between doctor knife and back roll, and then coated on board uniformly. There are some dryer boxes on the back of each coater to solve the drying problem.
Three or four form adjustment cylinders adjust the paper moisture and flexibility after coating. It always uses gloss calendar to improve board surface gloss.
Reel: horizontal pneumatic reeling machine according to working speed.
Now we introduce the technical proposal and structural drawing of five wire coated white board paper machine, which we made for Fuzhou Luoyuan Xiongfeng Paper Company in Fujian province, China. Their high quality coated white board is the famous brand in China`s container board industry.
Wire section: five wires and two top former.
The bottom wire length: 43m;
The first middle wire length: 15m;
The second middle wire length: 14m;
The back wire length: 7.5m;
The surface wire length: 7m;
The two middle wires have the top wire former to improve the dewatering effect.
Headbox: air-cushion type.
It was equipped with vacuum suction box with full stainless steel ceramic girder.
Press dewatering section: one vacuum suction prepress device: cast iron rubber vacuum upper roll with the diameter of Φ750mm; vacuum bottom roll with the diameter of Φ 800mm.
After vacuum pre-press, it has two large-diameter blind roll (four rolls) presses independently. The roll body is the diameter of Φ1350mm. After the large-diameter press, there has a half-dry glazing press: stone upper roll with the diameter of Φ650m; cast iron rubber bottom roll with the diameter of Φ900mm.
Drying section is equipped with 40 cylinders with diameter of Φ1800mm, which is divided into five groups. Besides, there have six form adjustment cylinders and two cooling cylinders after the coating section.
Closed gear box single-point drive.
Paper enters into the first cylinder group directly after press.
Coating form: two both sides coating and is equipped with four blade coaters, eight drying boxes.
The PM is equipped with controlled crowned roll calender; gloss calender; horizontal pneumatic reeling machine.
Drive section: ABB digital frequency converter sectional dive.
Trim width: Φ2880 mm;
Basis weight: 200 --500g/sq.m.
Working speed: 330m/min
If you are interested in our products, pleass feel free to contact us for more information.