Product Description
Case Board Paper Machine
This fourdrinier carton box board paper making machine (three wires, three kinds of stocks) is mainly used to make high-quality boxboard. It can make high quality and high-strength corrugated paper by single wire or twin wire and make high-quality corrugated paper according to market demands.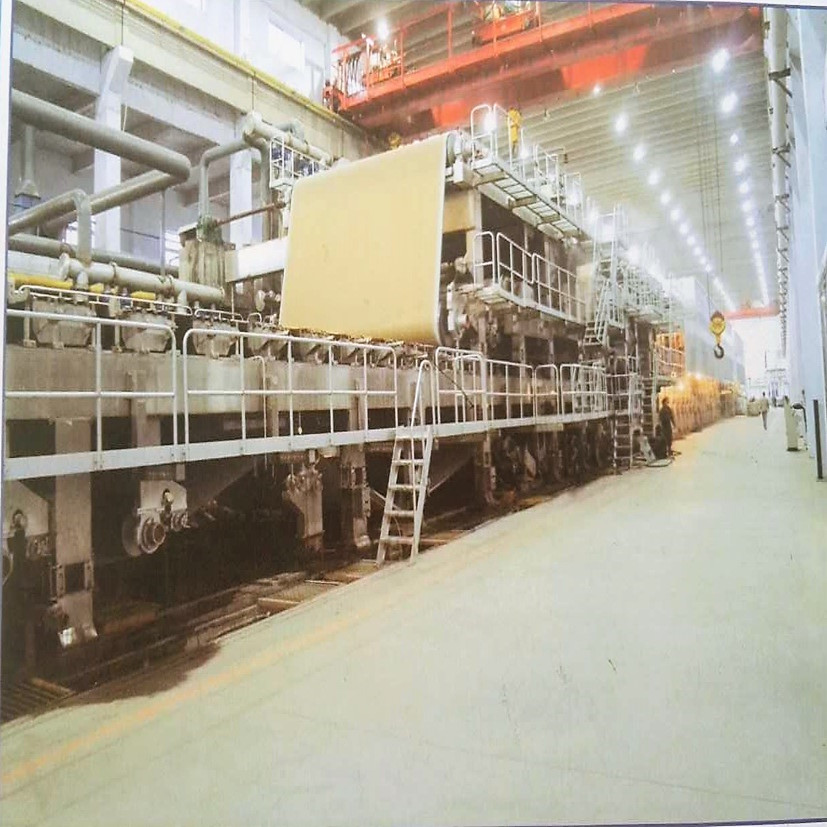 The basic components of configuration are: three wire -- pickup device -- vacuum prepress -- large-diameter press -- dryer cylinder group -- size machine -- dryer cylinder group -- calender -- reeling machine.
Wire section usually concludes: one bottom wire,one middle wire and one surface wire. The length of bottom wire is 22~34m, the length of middle wire and surface wire is the same: 7~9m.
Headbox is Aircushion-type. It uses vacuum suction box with stainless steel ceramic girder to dewater.
Dewater units: vacuum prepress and two stages large-diameter press. Different from the fourdrinier corrugated paper machine, this machine has one more vacuum pre-press unit to prevent the wet sheet crushing and improve the dewatering effect.
Press roll is cast iron rubber blind roll.
Dryer section usually uses several dryer cylinder groups with the diameter of Φ1500mm or Φ1800mm.
Each group closed gear box single drive or each group single gear box multi-points drive.
The present boxboard paper machine always equipped with surface-sizing machine. There are two advantages: On one hand, it can increase the fold and break resistance index; on the other hand, it can make the high quality and higher strength corrugated paper by sizing.
Calender is the necessary equipment to gloss the paper surface. Reeling machine: It can select horizontal pneumatic type or horizontal pope type.
Now we introduce the technical proposal and structural drawing of Fourdrinier boxboard paper machine, which we made for Dalian Jinyang Paper Company in Liaoning province, China. Their high quality container boxboard is the famous brand in China industry; we have 3.5 hours drive to the company.
Wire section: three wire. The length of bottom wire is 22.5m; the length of surface wire and middle wire is the same: 8.5m. Vacuum suction box: with stainless steel full ceramic girder. There has one vacuum pickup device to strip the paper sheet from wire section with high speed.
One stage vacuum prepress device: The cast iron rubber upper roll, with the diameter of Φ1050mm; Vacuum bottom roll, with the diameter of Φ1000mm. After vacuum prepress, it equipped with four rolls: two large-diameter double felt blind rolls press independently. The diameter of roll is Φ1500mm.
Dryer section has thirty cylinders with the diameter of Φ1800mm, which is divided into three groups, each group has ten cylinders.
The closed gear box single-point drive, the paper enters into the first cylinder group directly after press section.
This paper machine is equipped with surface sizing machine, calender with twin roll and twin drive; horizontal pope reeling machine.
Drive: ABB digital VVVF sectional dive.
Trimmed width: 3800mm;
Basis weight:90 --200g/sq.m.
Working speed: It can reach to 400m/min without sizing.
If you are interested in our products, welcome to contact us for more information.
We`ll be happy to give you the competitive quotation upon receipt of your detailed requirements.