Product Description
Calender Machine For Paper Making Machine Paper Calender
Paper calender machine is always installed behind of paper machine`s drying section, finish paper sheet and improve paper's smoothness, gloss and tightness, besides, make paper thickness evenly, improve sheet`s appearance quality.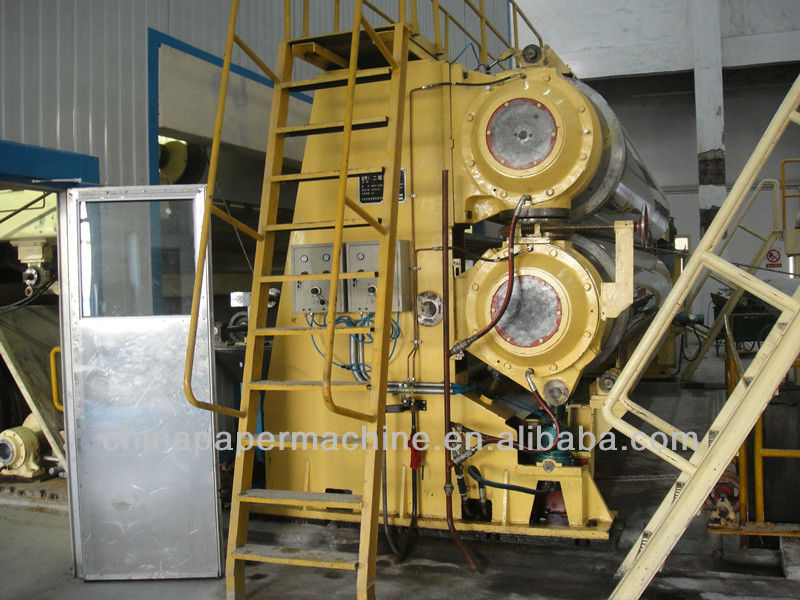 By smooth alloy chilled cast iron roller group, calender press polish paper web, after paper web getting on roller, increase linear pressure gradually through two rollers.
Therefore, it can improve paper`s smoothness and gloss degree and other physical properties.
Calender usually consists of frame and lever arm, roller and bearing, hydraulic pressurization, movable blade and bumper bar, paper pick-up device, movable curved roller, pneumatic control system, etc.
The following is basic configuration of two-roller calender that we designed and made for Guangdong Jintian paper mills Ltd. This company`s fine grey board is domestic famous brand.
This calender`s width is 5900mm, design working speed is 700m/min, paper basis weight is 90-700. It uses two-roller calender structure, bottom roller: Φ930mm; top roller: Φ930mm, both of them are centrifugal compound alloy chilled cast iron, hollow cylindrical rollers, chilling layer thickness: 25-30mm,working face width`s hardness shaw:>HS74°, surface roughness of rollers are all above 0.2.
Between calender`s rollers, it uses hydraulic pressurization, max working linear pressure: 80N/mm. Each calender roller has one movable blade, which is used for cleaning roller surface. Blade frame is structural steel; blade knife material is T8 steel sheet.
During process of paper web entering into calender roller from drying section, there has a movable curved roller, which is used for spreading paper web. On both frames of calender, there have two lubricating oil systems. It can control oil inflow through regulating boults on adjustable oil syringe.
Welcome to contact us for more information.