Product Description
3250mm-650m/min Culture Paper Machine picture
This A4 paper making machine is to make high quality A4 paper or writing and printing culture paper, or tissue paper (Fine paper, newspaper, low basis weight special paper).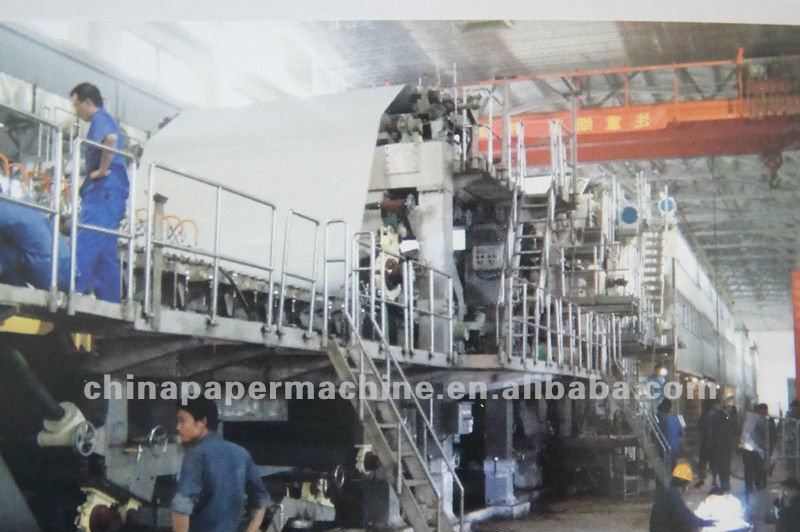 According to the different paper grade and working speed, this kind of paper machine is needed to select the way of papermaking, dewatering structure of press section, dryer cylinder bank, sizing and finishing equipments.
Sheet forming can use the open-type headbox, air-cushion headbox, and hydraulic headbox, gap former and inclined wire former. According to the paper uniformity requirement, it can use distributor roll or finishing surface roll.
Press dewatering type is multi-roll and multi-press nip press rather than large-diameter press. As the low basis weight and wet strength of this kind of paper, it usually makes the low strength wet sheet attached to the felt or guide rolls during each section mutual transferring and full web leading as much as possible.
Dryer section: dryer cylinder group. Paper leading: active or passive paper rope system. Finishing equipment: To choose according to the paper grade requirement.
Now we introduce the technical proposal and structural drawing of Fourdrinier advanced printing paper machine, which we made for Taiqian Minrui Huatong Paper Company in Henan province, China. The advanced printing paper of this company is the famous brand in China.
Trimmed width: 2640mm
Working speed: 400m/min
Basis weight: 50-100g/sq.m.
Headbox: Air-cushion headbox
Forming table length: 15m
Suction flat box with all stainless steel micro-crystal cover.
Press section: four rolls two press nips
The wet sheet is stripped by pick-up suction unit.
The second under press nip rubber blind bottom roll diameter is Φ800mm, with drive unit;
The suction top roll diameter is Φ800mm, with drive unit.
The top press nip is made by a stone roll and a rubber roll. The rubber roll diameter isΦ800mm, with drive unit;
The stone roll diameter is Φ850mm, with cut squirt.
This structure ensures the low strength wet sheet can press smoothly and paper breaks can be reduced.
The smooth press rubber bottom roll diameter is Φ800mm; the top stone roll diameter isΦ850mm. The paper leading roll has the drive unit.
The dryer section has 32 dryer cylinders with the diameter of Φ1800mm, which is divided into five groups: three groups for before-sizing, two groups for after-sizing. The top and bottom felt of first group and the group at the back of sizing machine is equipped with six felt drying cylinder with the diameter of Φ1250mm, which can dry the moisture well and improve the drying efficiency.
The paper leading roll has the drive unit. The paper leading type is three-stage passive paper rope system.
Sizing machine: inclined type surface-sizing machine.
Calender: four roll three press nips; the number is decided by the demands.
Reeler: horizontal pneumatic reeling machine.
If you are interested in our products, please feel free to contact us for more information, we are glad to give you the competitive quotation upon receipt of your detailed requirements.